Posted: May 5, 2018 | Source: Hafer Funeral Home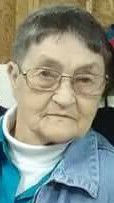 Judy Gay Moore, 81, of Quick, passed away Friday, January 19, 2018, after a short illness. She was born September 19, 1936, to the late Dewey and Allie Moore.
Judy's greatest love was her family and she enjoyed spending time with them. She also enjoyed browsing the flea market on the weekend. She will be sadly missed by all who knew her.
In addition to her parents, Judy is also preceded in death by her husband, Vernon Moore, and son, Ronald Moore.
Judy is survived by her sister, Nancy King; children, Ruby Derrix, Barbara Wood, Vernon Moore Jr., Nancy Proctor, Rebecca Basham, and Trina Bishop. She is also survive by numerous grandchildren, great – grandchildren, great – great – grandchildren, nieces and nephews.
In honor of Judy's wishes, she was cremated and a memorial service will be held Saturday, May 5, at the Quick Community Center, starting at noon until the last person leaves.
In lieu of flowers, donations may be sent to Hubbard Hospice House, 4605 MacCorkle Avenue SW, South Charleston, WV 25309.
Online condolences may be sent to www.haferfuneralhome.net.
Arrangements are in the care of Hafer Funeral Home, 50 North Pinch Road, Elkview.