Posted: May 6, 2018 | Source: Hafer Funeral Home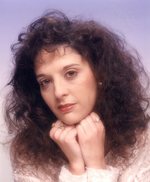 Tammy Dawn Raines, 52, of Elkview, passed away after a 20 year long battle with three cancers on Saturday, May 5, 2018. She earned her angel wings and is now residing with her Lord and Savior.
She was born in Charleston, WV on July 9, 1965 to Warren D. and the late Betty C. Raines. She is preceded in death by her beloved mother, Betty Raines, paternal grandparents: William Ralph Raines and Alma Rhodes Raines and maternal grandparents: Dewey and Lora Ray Harper: uncles: Darris Harper and Billy Harper, Edward Harper and Woody Harper; aunts: Barbara Justice, Elsie Jones, Judy Harper, and Lessie Harper.
She is survived by beloved father, Warren "Pug" Raines of Elkview, sister and brother in law, Becky and Tony Veltri of Big Chimney; nephew, Trevor Veltri of Big Chimney; step-son, Caleb Vance of Cross Lanes;
Furbaby, Jackson, who brought her many years of joy, happiness, and never-ending love.
She is also survived by several uncles, aunts, and cousins and many friends.
She was a graduate of Herbert Hoover High School and West Virginia State University. She worked as a license claim adjuster for Health Smart Casualty Claims Solutions.
She loved going to yard sales and shopping with her mom on Saturdays, which was her favorite day of the week. She loved flowers, clothes, shoes, and never ate a candy she didn't like. She attended Elkview Baptist Church; enjoyed spending time with friends and family. She was strong, courageous, smart, giving, and a fighter who never gave up. She loved going to Trevor's school events and Calebs football games and wrestling tournaments. Tammy was Trevor and Caleb's biggest fan!
The family would like to thank her work family at Health Smart for all the prayers, food, friendship and love. Especially her team: Brenda Brogan, Debbie Burford, Jo Finlayson, Rebecca Tate, Joyce Painter, Pixie Pauley, Amy Grant and Sue Poling. She loved each of you with all her heart.
The family also wishes to thank Dr. Arvind Shah, her oncologist for the last 20 years, for his exceptional care. Thanks also to his extraordinary oncology nurses, Sabrina McNeel, Nancy Shuck, Erin Jackson, Amber Winnell and Dani Anderson, you are the best! We also wish to thank everyone for their prayers, food, and friendship.
In addition of flowers you can also donate to Hubbard Hospice House of Charleston or the Kanawha Humane Society.
Service will be 12:00 pm, Tuesday, May 8, 2018 at Hafer Funeral Home with Pastor Charles Bias officiating. Burial will be in Elk Hills Memorial Park, Big Chimney.