Federal Government
U.S. House of Representatives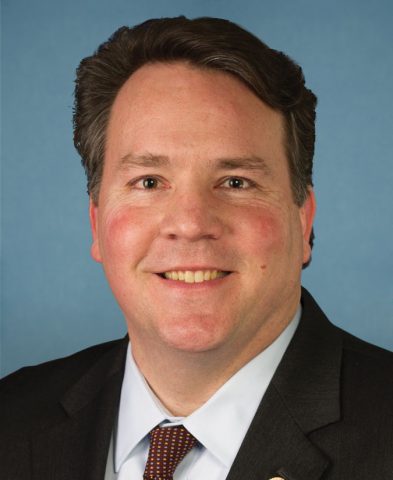 Alex Mooney (R-WV)
U.S. Congressman
More About Alex

Congressman Alex X. Mooney and his wife live in Charles Town in Jefferson County with their three children. Their third child, Gabrielle, was born in Charleston, West Virginia in October 2014. The son of a Cuban refugee and Vietnam veteran, Alex grew up with a deep sense of appreciation for the American ideals of individual freedom and personal responsibility.

Alex's mother, Lala, was born and raised in Fidel Castro's Cuba, where she and other members of her family were thrown into jail for seven weeks for opposing Castro's communist regime. When she was 21, Lala escaped Cuba and fled to America with barely a penny to her name.

Alex's father, Vincent, was sent to Vietnam when Lala was expecting their first child. He served as an Engineering Captain and was awarded the Bronze Star.

Listening to his parents' inspiring stories, Alex knew from a young age that he wanted to spend his life fighting for the American ideals set forth by our Founding Fathers.

Alex played football and rugby at Dartmouth College, where he graduated in 1993. A passionate defender of pro-life values, Alex also served as the president of the Dartmouth Coalition for Life during his junior and senior years.

Since Congressman Mooney was first elected in 2014 he has been consistently fighting for conservative, fiscal, and social values including lower taxes, less government spending, protecting our Second Amendment rights, pro-life legislation, job creation, and protection for our seniors.

Alex believes that West Virginia is poised to be a leader in defending and promoting American values of hard work, faith, and freedom that have made our country great. With a proven record of fighting for conservative values, Alex is defending West Virginia from President Obama's disastrous policies and fighting to encourage the job creation and prosperity West Virginians deserve.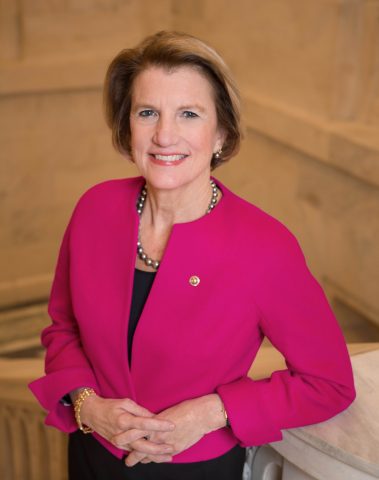 Shelley Moore Capito (R-WV)
U.S. Senator
More About Shelley

Shelley Moore Capito was elected by the people of West Virginia to the United States Senate in 2014. She is the first female U.S. Senator in West Virginia's history and was elected with the largest margin of victory for a Republican in state history – winning more than 62 percent of the vote and all 55 counties.

After serving West Virginia's Second Congressional District in the U.S. House of Representatives for 14 years, and as a member of the West Virginia House of Delegates for four years prior, Shelley decided to run for Senate with the goal of being an even stronger voice for the Mountain State. She also saw an opportunity to restore order to a Senate stuck in gridlock for far too long.

Shelley believes that the challenges of our day demand bipartisan solutions and cooperation across the aisle to advance legislation that benefits West Virginia and the country as a whole.

Shelley serves on the Appropriations Committee, the Environment and Public Works Committee, the Rules and Administration Committee, and the Commerce, Science and Transportation Committee. This committee portfolio puts Shelley in a strong position to create new opportunities in the Mountain State and fight for West Virginia coal, jobs, and families.

On the Senate Appropriations Committee, Shelley brings West Virginia's voice to the table when our nation's spending priorities are determined. She serves as Chairman of the Appropriations Committee's Legislative Branch Subcommittee.

On the Senate Environment and Public Works (EPW) Committee, Shelley advocates for policies that protect vital West Virginia energy and manufacturing jobs and encourage investment in West Virginia's highway infrastructure. She serves as Chairman of the EPW Committee's Clean Air and Nuclear Safety Subcommittee.

On the Senate Commerce Committee, Shelley promotes rural broadband expansion to better serve states like West Virginia.

Shelley is committed to being accessible and responsive to the people of the Mountain State. She regularly travels the state to hear from and meet with West Virginians.

A lifelong West Virginian, Shelley was born in Glen Dale in the Northern Panhandle. She holds a B.S. in Zoology from Duke University and a M.Ed. from the University of Virginia. Shelley and her husband Charles L. Capito Jr. reside in Charleston. They have three adult children: two sons, Charles (wife Laura) and Moore (wife Katie), and one daughter, Shelley (husband Colin Macleod). They have also been blessed with four grandchildren: Celia, Charlie, Eliza and Rose.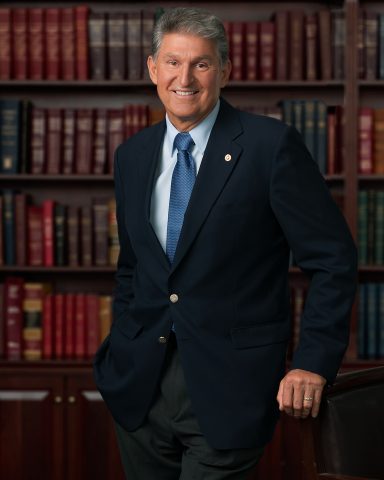 Joe Manchin (D-WV)
U.S. Senator
More About Joe

U.S. Senator Joe Manchin (D-W.Va.) was sworn into the United States Senate on November 15, 2010 to fill the seat left vacant by the late Senator Robert C. Byrd. For Senator Manchin, serving as West Virginia's Senator is truly an honor and a privilege.

Born and raised in the small coal mining town of Farmington, W.Va., Sen. Manchin grew up learning the values that all West Virginians share – family, common sense, fairness and hard work. As a small businessman, he learned firsthand from his grandfather, Papa Joe, who was an Italian immigrant and the town grocer, the importance of serving the public. As a young man, his beloved grandmother, Mama Kay, inspired Senator Manchin's belief in public service through her unflagging compassion and desire to help those less fortunate. More than anything, it is his family and the values he learned growing up among the hardworking men and women of West Virginia that define who Senator Manchin is and the public servant he strives to be.

From his days as a state legislator to his six years as Governor to his current role, Senator Manchin has always been committed to his philosophy of "retail government"– in other words, connecting with all of his constituents and making service to them his top priority.

Throughout his public life, he has never let politics or ideology stand in the way of commonsense solutions. Instead, he believes that only by putting politics aside and working hard to bring people together can we do what is right for West Virginia and the nation.

He began his tenure as West Virginia's 34th governor in January 2005. Then-Governor Manchin approved millions of dollars in tax relief for West Virginia's citizens and businesses, fixed the state's workers' compensation system, established the first comprehensive teacher pay package in more than 15 years and dramatically decreased the state's debt. In six years, more than $13 billion in business investments were made, and West Virginia was often cited nationally for its strong fiscal management.

As a Senator, Joe Manchin is committed to bringing this same spirit of bipartisanship to Washington. As he has done throughout his entire life, he remains committed to working with Republicans and Democrats to find commonsense solutions to the problems our country faces and is working hard to usher in a new bipartisan spirit in the Senate and Congress.

Legislatively, job creation is Senator Manchin's top priority, and he believes that government should act as a partner, not an adversary, in helping to create the environment that produces good American jobs. Senator Manchin also firmly believes that our nation can and must do what he did in West Virginia – put our fiscal house in order. He believes we must find commonsense ways to cut spending while keeping our promises to our seniors and veterans by protecting Social Security and Medicare.

Senator Manchin is strongly committed to developing a balanced national energy plan that utilizes all of our resources and recognizes that fossil fuels will be a vital part of our energy mix for decades to come. He believes that a balanced, commonsense approach that considers the needs of our environment and the demands of our economy, can and must be developed if we are to achieve energy independence within this generation.

Senator Manchin currently serves on the Senate Energy and Natural Resources Committee, the Senate Select Committe on Intelligence, the Senate Committee on Appropriations, and the Senate Committee on Veterans' Affairs – four critical committees that tackle the important work of addressing our nation's energy needs, standing up for our veterans, and overseeing discretionary spending and intelligence activities.