Posted: May 13, 2018 | Source: Matics Funeral Home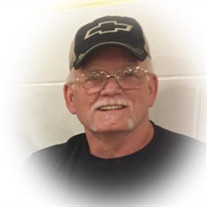 Paul Richard "Rick" Helper II of Clendenin, WV went home to be with the Lord Saturday May 12, 2018 at CAMC Memorial.
Rick was a loving husband, father, grandfather and friend to all who knew him. He was a graduate of Spencer High School, Class of 1974. Also a member of Mount Pleasant Baptist Church and Classic Steel Car Club. Rick was retired, but was a former employee of O'Dell's Exxon, Eden's Body Shop, FedEx Home Delivery and BB&T.
He was preceded in death by his parents, Paul Richard "Jack" Helper I and Eloise Waggoner Helper Carper, and special Aunt Betty Helper Carper.
He is survived by his loving wife of 35 years Brenda Wease Helper; daughters, Julie Linger (Philip), Tiffany Romine (Rodney), Maridith Parker (Kevan); grandchildren, Abby, Terance, Damion, Isaiah and Briana.
Rick loved the Lord, his family and automobiles; in that order. His family was his pride and joy. He longed for everyone to know the Lord.
The visitation will be from 6:00 PM to 8:00 PM Thursday, May 17, 2018 at Matics Funeral Home Clendenin.
The funeral will be 11:00 AM Friday, May 18, 2018 at Matics Funeral Home Clendenin with Pastor Lee Swor officiating.
Burial will be in Clover Ridge Cemetery Clover, WV.
Online condolences may be expressed at maticsfuneralhome.com.