CHARLESTON, W.Va. – Registered voters can now take advantage of early voting at county courthouses and designated satellite precincts across West Virginia this morning.
Early voting for the 2018 primary election opens today and ends Saturday, May 5th. County early voting locations are open during business hours during the week, and open on Saturdays from 9 a.m. to 5 p.m. Check with your local county clerk for specific weekday times.
"Early voting is a great way to get out there and use your voice," said Secretary of State Mac Warner. "Early voting gives citizens an easy and convenient way to cast their ballot. Our Elections Division, our county clerks, their staff, and our poll workers stand ready to make it easy to vote and hard to cheat."
There are 1,227,600 registered voters in West Virginia as of April 17th, the final day to register to vote in the May 8th primary. Of that total, 42.76 percent are registered with the Democratic Party; Republicans make up 32 percent; .17 percent are Mountain Party members; .48 percent are with the Libertarian Party; 21.80 percent are unaffiliated; and 2.79 percent are registered with minor parties (attachment).
This is the first statewide election taking place that will require voters to show a form of identification at the polls. Voters will need to show one of 17 forms of acceptable ID.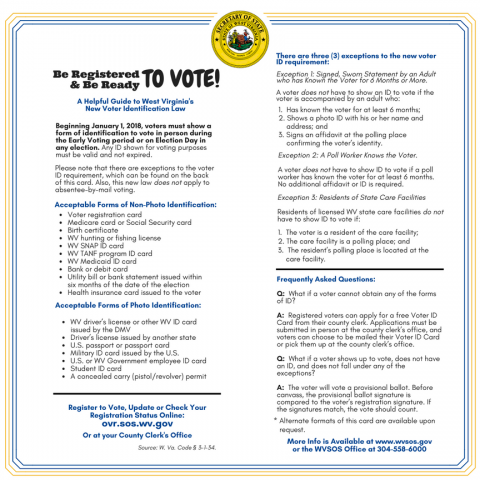 The Secretary of State's Elections Division reminds voters that if they see something at the polls that doesn't look right, say something. Just call our Election Fraud Tip Line at 1-877-FRAUD-WV to report any suspicious activity.
Voters looking for more information on Voter ID, needing help finding their polling place, or tracking an absentee or provisional ballot can go to GoVoteWV.com.
Attachment: Voter Registration Totals as of April 17, 2018
Link: GoVoteWV.com