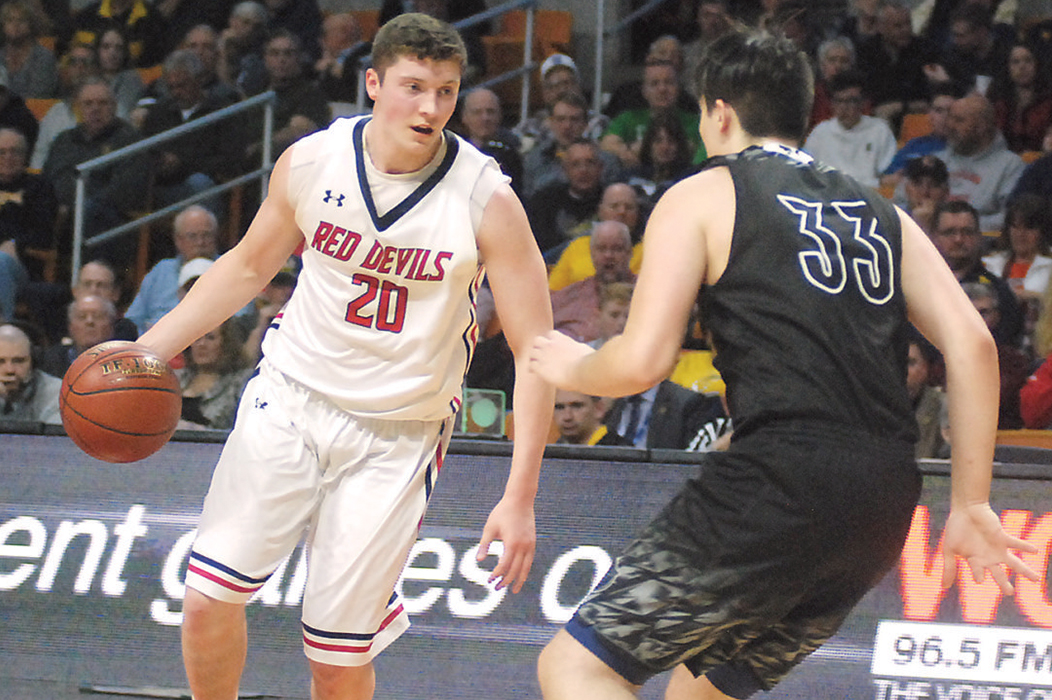 Photo by Jay W. Bennett Ravenswood High School senior Isaiah Morgan, pictured here at the Class A state tournament earlier this month, was honored by league coaches as the Little Kanawha Conference's Player of the Year.
By: Jay W. Bennett, Sports Writer | Posted: Mar. 25, 2018 | Source: The Parkersburg News and Sentinel
PARKERSBURG — Only one player on this year's all-Little Kanawha Conference boys basketball squad is a three-time first-teamer — Ravenswood's Isaiah Morgan.
The Red Devil senior, who helped lead his team to consecutive Class A state runner-up finishes as well as back-to-back LKC titles, was honored by league coaches as the Player of the Year.
A West Virginia Tech recruit, Morgan finished fifth nationally in career free-throw shooting percentage at 92.06 percent as he sank 441 of 479 attempts.
En route to averaging 25 points and 8.3 boards a game, Morgan drained 190 of 202 attempts at the charity stripe this winter while shooting 59 percent from the field. He had 1,842 career points, second best in Ravenswood history.
"Here is a kid that as a coach you can truly say the accolades that he gets he deserves," said Red Devil boss Mick Price, who was named the LKC Coach of the Year by his peers. "He has worked tremendously hard in order to put himself in a position to represent his school and his community and this basketball program to be the best it can be. He's a true leader. He really is.
"Not just to the kids on his team, but little kids who come to the game, midget league kids. They think the world revolves around him when they come watch him play. What better role model can you have for kids than Isaiah Morgan."
Morgan is the Red Devils' ninth all-time LKC POY and was joined on the first unit by Braxton County's Tayton Stout, the only repeat honoree. Stout averaged 17.4 points per game and helped the Eagles reach the Class AA state tournament. His teammate Cole Browning, who averaged a team-high 18.6 points, also made the first team as the Eagles finished runner-up in the conference.
Ravenswood's Stephen Dawson, who joined Morgan on the Class A first-team all-state squad to become the only duo in RHS history to accomplish that feat, ended his final campaign with the Red Devils on the all-LKC first team. Along with shooting 52 percent from the floor, he put up 14.5 points and 8.3 rebounds.
Parkersburg Catholic's Cade Ullman led the Mid-Ohio Valley with 103 3s and a 26.0 points-per-game average. The junior shot better than 38 percent from deep, 87 percent at the foul line and also averaged 3.5 boards, 2.8 assists and 2.7 steals. PCHS lost the LKC consolation game to Webster County, which was represented on the first team by Tyler Gray (15.6 ppg, 5.2 apg, 3.2 rpg, 2.6 spg).
Class A state tournament participant Tyler Consolidated landed junior guard Griffin Phillips on the first team. Phillips scored more than 16 points a game and averaged 3 steals and 2.5 dimes a night.
Williamstown big man Cullen Cutright made his presence around the rim known and grabbed a first-team spot. The junior shot 63 percent from the field, averaged a block a game and put up 16 points while grabbing 6.4 boards.
Roane County's Devin Heeter made the first unit. He drained 66 triples and averaged 23.4 points and 5 rebounds.
The remainder of the 12-member first team also featured Doddridge County's Chase Dunaway (14.4 ppg, 9.7 rpg, 2.4 bpg), Calhoun County's Trevor Carder (17.1 ppg, 4.4 rpg, 3.0 apg) as well as Clay County's Isaac Workman.
Chase Sullivan of Ritchie County was selected as the captain of the second team, which also boasted St. Marys teammates Evan Lamp and William Steele along with Ravenswood's Jayden Rhodes, Parkersburg Catholic's Patrick Copen, Doddridge County's Tanner Lett, Clay County's Thomas Haverty, Williamstown's Eli Inman, Wirt County's Trenton Burdette, Gilmer County's Gunnar Haley, Roane County's Brandon Morris and Cody Lowther from Webster County.